We are pleased to launch our new Website.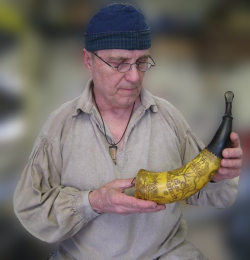 On behalf of the Honourable Company of Horners, it is my pleasure to present our newly revised website.  I hope that our members are as excited about it as I am.  Visitors browse through and receive a taste of what awaits you as a prospective member.  If you have an interest in horn working or collecting, consider joining to become a part of the Guild.  It is comprised of some of the finest artisans in the world.  I can guarantee it will be a never-ending learning session.
Thanks to Freeman Rick Sheets, who redesigned this site making it informative and user friendly.  Thanks also to Freeman Dave Rase whose earlier input brought about a significant change.  I would be remiss if I did not mention the efforts of Guildmaster elect Jeff Bibb and others too numerous to mention.
So sit back, relax, and enjoy browsing through the site, I am sure you will return.
Sincerely,
Ed Long