With this year's annual meeting behind us, our thoughts turn to the fun and fellowship at Dixon's Gunmaker's Fair this summer! I am thrilled to be able to share with you, that we have another excellent showing of member's work to bring to you this July! We'll start with the "Horn and Bag set." This year we have a most spectacular pairing of a horn by Journeyman John DeWald of Pennsdale, PA and a bag by Journeyman Frank Willis of Emmaus, PA. Let me just say, the pictures do not do this set justice! I am confident if you are able to see this set in person, it will amaze you!
John and Frank decided to go with a "high art" bag and horn set with a strong Pennsylvania Dutch influence. John's horn, with a double tulip shaped spout, chip-carved cherry base plug, is covered with intricate designs such as hexes and fraktur floral work and a fraktur angel. The opposite side carries the phrase, "Moge Got die Hochste Uhr Uber Dir." This means, "May God the Highest Watch Over Thee." The polychrome coloring and aging techniques compliment the bag perfectly.
The bag is based on an original fowler bag owned by Tom Ames. It has a complex design comprised lacing and a PA Dutch circular pattern with piercings. Added to this is the use of colored thread, leather covered rings, gussets and borders. It's lined with a coarse weave linen fabric.
The set is also graced by a beautiful engraved and poly-chromed horn on horn vent pick by Journeyman, Spark Mumma of Jonestown, PA and a turned horn measure and brush with hand made chain by Jerry Polizzi of Elizabethtown, PA.
As we have done in the past, we are happy to be able to have additional items to be raffled off. The first is a beautiful moose hair embroidered pouch by Sue DeLille of Wilkesville, OH. We also have a super acrylic wampum beaded strap, graciously donated by Paul DesRosiers of Gastonia, NC.
 These amazing prizes will all be on display at the Guild table at The Gunmaker's Fair, where tickets will be on sale for $5 each or 5 for $20. Those who cannot make the fair can join in on the fun by downloading tickets here!
Kris Polizzi – Fundraising Co-Chair
| | |
| --- | --- |
| Additional Raffle Items | Won by: |
| | Jerry Polizzi(PA) |
| | Rich Griggs(OH) |
Update – March 14th, 2014

We have winners! Please see who the lucky winners are next to the prizes below. Thank you.
Well friends, it`s getting to that time of year, when thoughts turn to the Annual Meeting. I am pleased to announce that we have some great items for the raffle again this year. First, I want to give a big Thank You to the members who donated these wonderful items! The two raffles we hold each year are a great way for us to raise money for the Guild's many programs, and there is no way to do that without the help of so many of you . So with out further delay, here are this year's items and names of those who graciously donated them…
This year's nine items are…
The NMLRA has donated a print of David Wright's "Spirit of America."
Won by Ray Troutman
An engraved compass box with a chip carved lid, by Master Horner John Proud
Won by Gary Steele
An Early Philadelphia style screw tip horn, crafted by Ron Hess
Won by Todd Searle
A lovely hand woven buffalo wool strap, by Pam Hutton
Won by Gerry Rubbo
An engraved drinking cup, by Jerry Frank
Won by Helen Newell
A handsome contemporary banded buffalo horn, by Journeyman Horner Walter Mabry
Won By Regina Toone
A hand made tool set, by Ray Antosh
Won by Ed Long
A beautifully engraved rum horn, by Tom Saunders
Won By Butch Besmer
And last, but certainly not least, is a wonderful blowing horn with hand spun pewter embellishments, by the team of Don Fererro and Journeyman Horner Bill Carter.
Won by Wayne Davis
Now you may be wondering how you can get some tickets for these amazing items and how much it will cost… Tickets will be available through our website and at the Annual Meeting, where the items will be on display. Tickets are only $2.00 each or an even better deal at 6 for $10.00.  I want to say Thank You again to the wonderful artisans that donated this year and to all members who make these raffles possible. Anyone who is interested in donating an item can feel free to contact me at 
polizzifam@netzero.net
.
We have lots of pictures of the raffle items below. Be sure to scroll down!
Kris Polizzi – Chairperson
Update July 28, 2013- We have a winner! Congratulations to Jeff Bibb of Lynchburg, Virginia.
Now that the annual meeting is over, our thoughts will be turning towards getting ready for Dixon's Gunmakers Fair at the end of July.  For many Horners it is a great chance to show of your work and hopefully win a ribbon or two. Also, it is time for the annual raffle of the "Bag and Horn Set" made and donated by Guild members.
We have had some excellent sets raffled off in the past and I must say this year is no exception. I asked Gary Elsenbeck of Lee Center, NY and Scott Morrison of Keizer, OR, if they would team up and come up with a nice set for this year. All I have to say about it is WOW! I would like to take this chance to thank them both for this wonderful set.
First of all, I would like to talk about the bag made by Gary. It is a very nice double pouch made from 3-4oz veg tan leather and dyed with a homemade dye. It is flat sewn and has some folk art on the flap that was inspired by the book "Decorative Motifs of the Southern Backcountry ".  The bag itself measures 8" wide, is 7" deep and has an adjustable 1 ¼" strap with a brass roller buckle. Next, the horn made by Scott. The horn is based on the 1762 horn shown in Madison Grant's book Page 82. It measures 10 ¾" along the outside curve and 2 ¼" diameter base plug. It has two carved bands and one applied band. The two carved bands have been made to resemble dice, one band has the number ''5"on it and the other has the number "2", giving the horn the name"Lucky 7". He also included a strap made by Kris Polizzi.  Now, for the accoutrements…  Gary donated a 65 grain tin powder measure and a forged screwdriver.  Also Dan Eisenhower of Dover, PA, made a nice 45 grain antler measure that has dice carved on it to match the horn. He also included a brush and pick on a nice chain.
As in years prior, we are happy to be able to add some other items to the raffle.  These items include a nice leather canteen made by Paul Gasparo of Huntington Station, NY.  Jim Webb has also donated a bound and signed copy of his book, "Sketches of Hunting Pouches, Powder Horns and Accoutrements of Southern Appalachia."
By now I hope I have sparked your interest in these items, and you are asking how much are the tickets? The price for tickets is $5 each or 5 for $20. So, come on and show your support and purchase some tickets. And remember, without your support the Guild could not grow.
 
Leather Canteen made by
Paul Gasparo of Huntington Station, NY
Other Items:

Pick and Brush on hand twisted chain

Hand-bound and signed copy of the book,
"Sketches of Hunting Pouches, Powder Horns and Accoutrements
of Southern  Appalachia"
from the author Jim Webb.
One More Look!
Pouch by Gary Elsenbeck of Lee Center, NY
Horn by Scott Morrison of Keizer, OR
As stated in the past, I want to have two raffles a year, one at the annual meeting and one at Dixon's. I will try to have new things every year at the meeting, but Dixon`s will always be a bag and horn set, because that is the tradition. The Drawing will be held on Sunday, July 28th, 2013 at Dixon's Gunmakers Fair.
If anyone wants to donate and item for either raffle just contact me at eseabee1@comcast.net .
Your most humble servant,
Ed McDilda
Fundraising chairman
UPDATE -MARCH 6, 2013 – WE HAVE WINNERS.
PLEASE SEE WINNING PERSON'S NAME BESIDE THE DONATED ITEMS BELOW.
I am pleased to announce that we are going to have a raffle at the annual meeting to help raise funds for the Guild.  We have had some fine artisans from within the Guild donate items for this raffle. I would like to take the time to thank these fine folks for their contributions and their commitment to helping the Guild grow. So, with that said, here are the items that are to be raffled off at the annual meeting in March.
We have a charming lady`s ring box made by Don Fererro and engraved by Bill Carter…  A handsome 8" x 10" framed giclee print from Bob Albrecht… Also, we have a lovely hand woven powder horn strap and gift certificate for a custom strap from Kris Polizzi… Sparks Mumma donated a wonderfully engraved salt and pepper horn… and John Dewald donated a beautifully crafted medicine cup and spoon… There will also be a table set up for you to view the items and purchase tickets at the annual meeting.
Just added on January 10th, 2013…  The NMLRA 1 of 1000 Endowment Program has donated another print to us by David Wright; it is named "Spirit of America."  Please see the picture below!
I am hoping to start the tradition of having two Raffles each year. One at Dixon's, which will always be a horn and pouch set, and one at the annual meeting. So, any artisans, whether a Freeman, Journeyman or Master, wishing to donate something for a raffle, please feel free to contact me at eseabee1@comcast.net.
Your most humble servant…
Ed McDilda
Fundraising Chairman
Spirit of America Print
by David Wright
Donated by the NMLRA's
1 of 1000 Endowment Program

Won by
Rich Griggs Marysville, OH

Salt and Pepper Horn
by Sparks Mumma

Won by
Joe Becker, Pennsylvania

Horn Ring Box
by Donald Ferraro
engraved by Bill Carter

Won by
Ed Long, Pennsylvania

Handmade Inkle Loom Strap
by Krista Polizzi

Won by
Ron Hess, Buckhead, GA

——-

Inkle Loom Strap Gift Certificate
by Krista Polizzi

Won by
Craig Jarrett, Pennsylvania

Delaware Scout Print
by Robert Albrecht

Won by
Jim Enloe, Mt Vernon, OH

Medicine Cup
by John Dewald

Won by
Gus Taber, Pennsylvania
Update July 29, 2012- We have a winner! Congratulations to Walt Morgis of Virginia.
The 2012 HCH raffle features the Clash of the Titans North Carolina squirrel rifle set entered by the South in last year's monumental competition at Dixon's Gunmakers Fair. The set will be displayed at the annual HCH conference in March, and at Dixon's in July.
The drawing will be held at Dixon's Gumakers Fair, which is held in Kempton, Pennsylvania every July. (See their website by clicking here.)
The horn made by Billy Griner, is a copy of an original Rowan County, NC piece. It features three bands with a turned, applied antler tip, and a black walnut base. Overall length is 11 inches around the curve. (See Billy Griner's website by clicking here.)
The pouch was made by Jeff Bibb and is a copy of an original pouch from Iredell County, NC. Constructed from cowhide, the pouch is 6.5 inches wide by 7 inches deep. The flap is bound and backed with hemp. There is a hanging ball or patch pocket inside. (See Jeff Bibb's website by clicking here.)
This awesome Southern pouch and horn are complimented by other handmade items. The measure was turned from horn by Mark Ewing, and pick and brush set were made by Jeff Bottiger.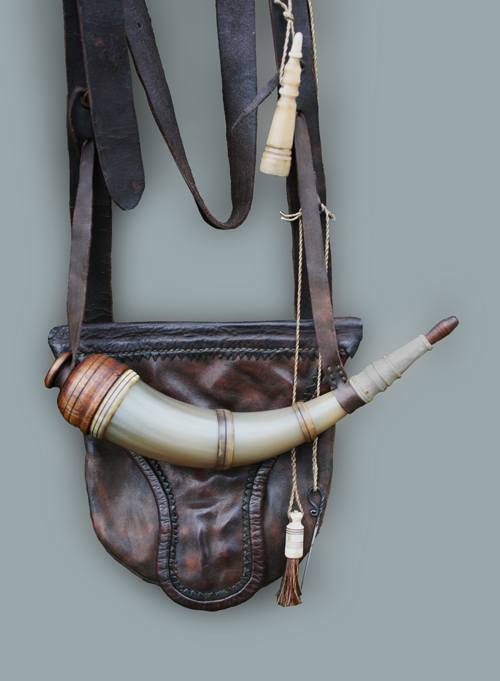 Update March 12, 2011- We have a winner! Congratulations to Willie Frankfort.
This year's raffle that will take place during the Annual Meeting is comprised of the highest quality of accouterments that anyone would be proud to own.
Guild Artisans donating their time and talents for this year's raffle are:
● "Rev" Brouckson – Whisk, Pick and Powder Measure
● Bill Legdon – Powder Horn
● Scott Morrison – Priming Horn
● Jim Pease – Knife
● Jim Webb – Bag
Your support of both our fundraisers each year helps the Guild stay on a sound financial footing, ensures future growth and allows it the latitude to undertake special projects. It is hoped that all members will support our Guild by purchasing some tickets and don't forget to personally thank those artisans who were so generous.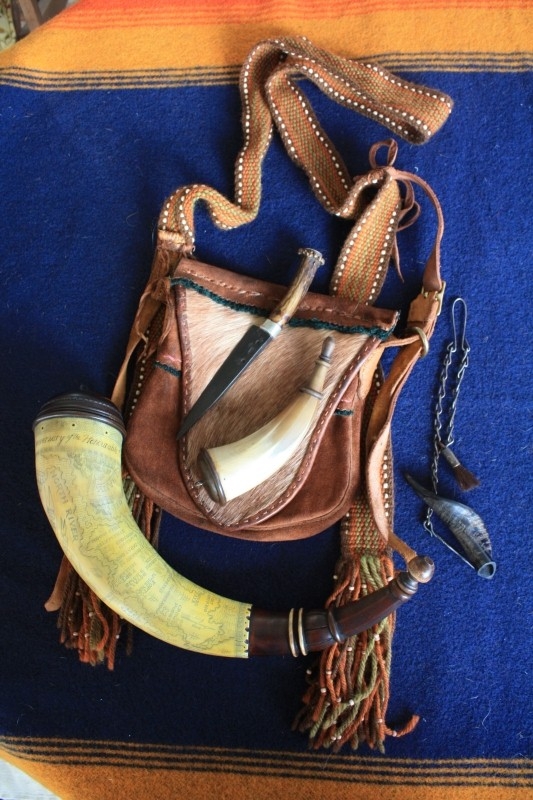 The Honourable Company of Horner's has assembled a spectacular pouch and horn set for its Summer Raffle. The drawing will be held at  Dixon's Gunmakers Fair. The fair will be held in Kempton, PA on Friday July 23th, Saturday July 24th, & Sunday July 25, 2010.
We have a winner! Congratulations to Jim Hentz of Etters, Pennsylvania.
The assembled rig is an effort of the following HCH members: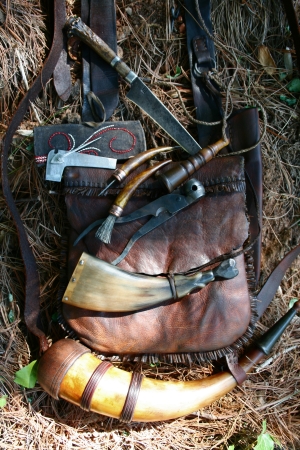 Tim Crosby:  Southern banded horn with applied pewter tip.
email: ccrosby004@columbus.rr.com
Jeff Bibb:  Southern hunting pouch and horn strap.
email:  jwb58@msn.com
Ian Pratt: Hand-made patch knife.
email:  ipratt360@gmail.com
Jeff Bottiger: Duck head flat priming horn.
email:  jbhorns@fidmail.com
Larry Callahan: Hand-made ball mold. (.490 caliber / can be exchanged free for any size)
email:  callahanrifles@yahoo.com
Zach and Emily Callahan: Hand-made rifle multi-tool and quilled brain tan storage pouch.
email:  callahantrading@yahoo.com
Billy Griner:  Southern 70 grain powder measure, pick and brush set.
email:  billy.griner@gmail.com
Rich Griggs of Marysville, Ohio was our winner!
The Honourable Company of Horner's assembled another spectacular horn and bag combination and was raffled off at the 2010 HCH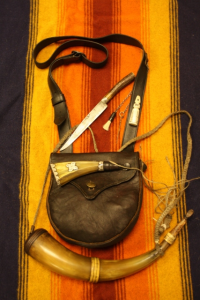 Annual Horn Fair at Historic Roscoe Village on March14.
Here is a list of HCH Members who donated the items for the raffle:
This fundraiser included a hand sewn leather shooting bag, horn strap and wisk and pick by Dixon's best of show winner Calvin Tanner.   A powder horn by Dixon's first place ribbon winner Jeff Bibb.  An engraved powder measure by John Ruoff with engraving by Mark Preston.  A priming horn by HCH guildmaster Mike Karkalla and a bag knife by Jim Pease.