Spring is upon us and the mid-winter blues are over. The trout are rising and the ridges and hollows echo with mating calls of gobblers seeking hens. I know a least one fellow who took his bird this season as it came in to his hand-made horn call. Not his first bird lured to the seductive clucks from his call but his first taken with a flintlock fowler. The bird didn't seem to mind that he was wearing buckskin breeches and a green wool over-shirt instead of a camouflage coat and face mask. From the past comes a lesson for some of our more modern nimrods who are lured into the cammo and magnum craze in their effort to be the successful hunter, home from the hill.
By the time you read this, guild member, Robert Coffey and I will have presented a craft demo for veterans from our local VA Medical Center. As representatives of a national rehabilitation program, "Project Healing Waters," we have found it interesting how involved these veterans have become. Tying flies, building rods and trips a'stream takes their mind off their infirmities. Robert and I will soon be presenting a hands-on instruction class with the veterans making leather fly& leader wallets. Introduced to the historicity and the art behind the techniques of fly fishing and fly tying, these young men have found new purpose and their interest in the "old stuff" over plastic and synthetics is astounding. Whether tying a fly or recreating a turn of the century leather fly wallet, new talents are exposed and the veterans' interest is electrifying. Very much like that which we share through the body of our guild, they have found the most curative prescription for positive direction is offered through sharing in trusted relationships with folks who can understand them.
For the individual, there is but little difference between horn working or tying flies and making leather accessories. Coordination, imagination, knowledge of history and, motivation are the ingredients to open the doors of creativity. I encourage all to take someone under wing and teach them our historic values and the basic procedures of working horn. Mentor them, foster their trust as they are awakened in knowledge, skills and understanding by creating something that will bring them satisfaction.Taking a trout on a fly they have tied of feathers and floss or a long-spurred gobbler on a horn call they have made, adds to the pleasure of experiencing the boundless opportunities the field and stream can offer one in search of satisfaction.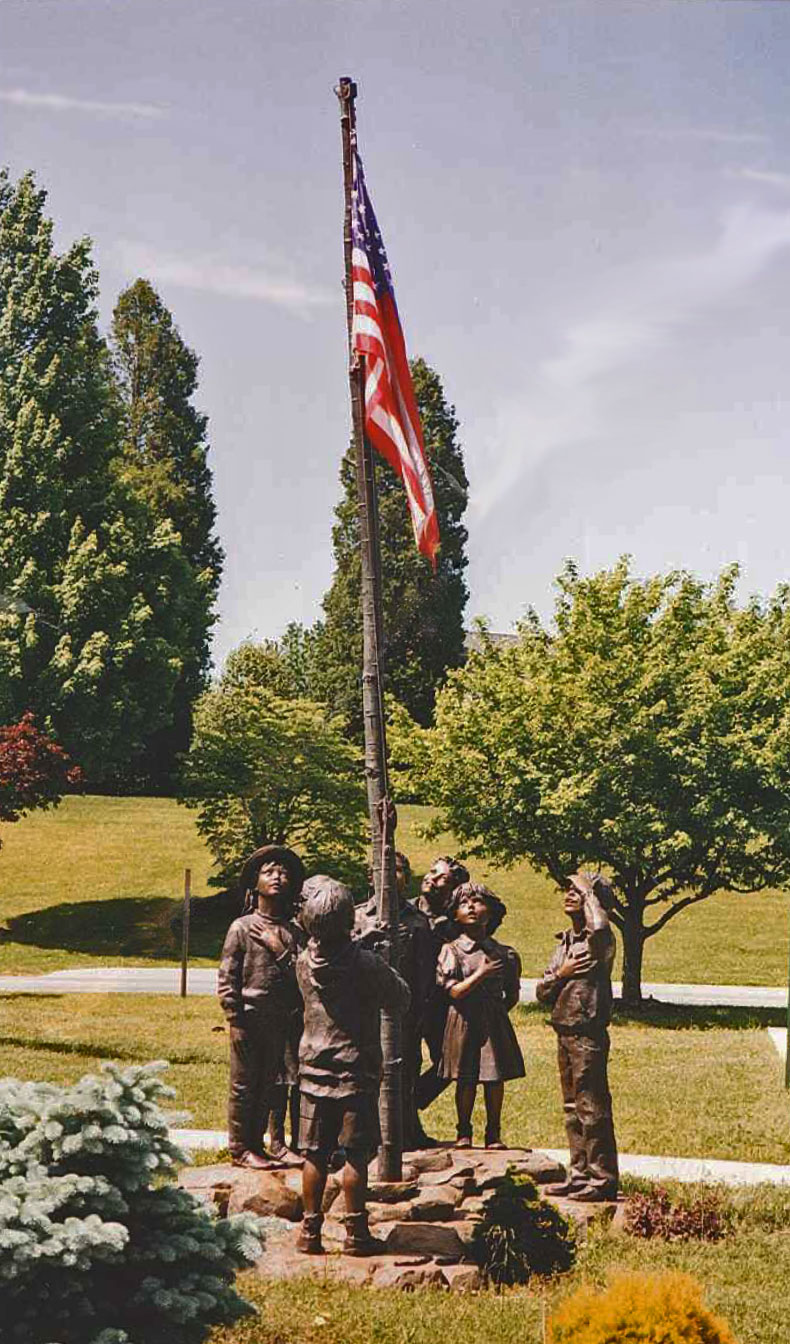 Speaking of veterans, Memorial Day is nearly upon us. This year marks the 150th year anniversary of national recognition. It's but one day out of 365, set aside to pay respectful tribute to those who gave their lives so that our flag shall still wave over a nation of free people. With family picnics and the opening of the vacation season, not to mention consumer "holiday sales," it's so easy to forget their most precious sacrifice.Our national heritage runs much deeper than flag waving on holidays as a proclamation of self-identity. So please take a moment to reflect upon the cost of our heritage, not only on Memorial Day, but throughout the year. Their sacrifice is what we, the living, shall make of it.
I recently had the honor of being asked to fashion a horn and pouch complete with other accouterments, in recognition of a young Marine who served with distinction in Afghanistan. Along with a commemorative flintlock rifle made by riflesmith Wayne Watson, honoring the historic service of the Marine Corps as well as this Marine's distinguished service, the presentation took place in Wilmington, NC on 8 May. Wayne's contemporary embellishment on the rifle embraced the history of the USMC from its inception at Tun Tavern on 10 Nov. 1775, through all eras that followed. Inspired by Wayne's rifle and more importantly, by the service of this young Marine, Capt. William J. Kavanagh, the horn and pouch followed suit in contemporary styling. Guild member Kris Polizzi made and donated the straps for the pouch and horn, color coordinated with the red and gold of the USMC for the powder horn and multi-colors representing the Afghanistan Service Medal for the pouch. I am very grateful for her personal contribution as her hand woven straps complimented not only the rifle and accouterments, but the spirit of serving others with devotion and commitment as well—a commitment Kris certainly takes to heart as she serves your guild. Therefore, without reservation, I feel that the horn and pouch represented the guild's contribution to that special project rather than just my own. Complimentary to Part-2 of a feature article on a period powder horn in the Marine Corps Museum, there will be a short follow-up in the summer issue of the Horn Book on this special presentation.
Its not too early to plan to attend our Summer Reception & Banquet at the Dixon event at the end of July. Amid the rural charm of Berks County, Pennsylvania, it is a time to relax and enjoy the pleasant atmosphere of reuniting with friends and making new acquaintances. Stay tuned for details soon to be posted on this site.
I hope to see you there.
I remain your obedient servant,
Thos. Ames
Guildmaster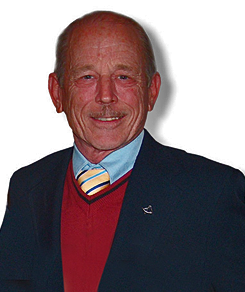 As your newly installed Guildmaster, I am pleased to take this opportunity to introduce myself and express my thanks to the HCH membership for electing me to represent you as your Guildmaster.  I know that the HCH Executive Committee and our membership is committed to seeing the guild grow and to continue to foster interest in our heritage in horn.  My thanks are extended to each and everyone one of you in supporting our (and your) efforts to promote the artisanship of horn working, researching and documenting various aspects related to the craft, the collecting and preservation of horn artifacts and sharing our information at public venues so our unique heritage is not lost to the future.
For many years the collecting of longrifles had long overshadowed general interests in powder horns and other horn artifacts.  For decades, powder horns took a back seat to the "Kentucky" rifle.  Thankfully, that has changed.  Over the last 25 years, interest has grown tremendously, not only in powder horns but for general items of horn as well.  Who would have thought that 20 years ago, when the first horn fair was organized by Roland Cadle, that our organization would have stabilized with a membership that hovers around 400?  The guild has come a long way folks.  From a meager beginning of devoted attendees, the HCH, now with a score of years behind us, can count itself as a prestigious and professional association.  The Honourable Company of Horners can be proud of the inroads we have made to bring our lowly horn artifacts of the past to the attention they deserve in this new age of discovery when everything seems to become obsolete soon after it hits the market.
Horn gives us a sense of stability in our world of synthetics and plastics.  Working horn has its way of soothing the soul when we become stressed by daily activities.  It seems give us a sense of belonging to our past as well as strong and lasting connections with others who can understand our particular interests and passions. For many individuals who never suspected they had a creative bone in their body, horn working has awakened newly discovered talents.
The guild has several projects on the horizon.  The publication of a new book by Dr. Jay Hopkins devoted to southern horns—an area that deserves attention and will be the very first work to cover the subject in detail. The On-line Horn Museum is still being finalized.  A formal HCH Library is in the process of being formed.  It will be comprised of contemporary books & research material, as well as rare volumes devoted to horn work and will be made available to members for research at each annual meeting.  Thanks are gratefully extended to HCH member Glenn Beall for the opportunity for the guild to acquire some very rare books devoted to horn working for the general interest and knowledge of our membership.A formal presentation ceremony has now been integrated into recognizing our Journeyman, Master and Historian advancements.  These are but a few additions that have or will be taking place in the near future.
I want to remind everyone that the guild is an active organization comprised of a dedicated membership for the purpose of promoting horn work and researching the varied avenues associated to the craft.  It is up to YOU to help advance the skill and knowledge and thereby, help YOUR guild grow.  There is much work yet to do: Committees need your help.  Our Horn Book is a premier publication but it takes additional funding in order to maintain the level of professionalism expected of it. Any help you can provide to offset this expense is gratefully appreciated.  If you are delinquent in paying dues, please remit them.  If you have thought about joining the guild but are hesitant for whatever reason, please join—we have a lot to offer.  The HCH is comprised of members from all walks of life, members who may be varied in their interests, skills and abilities, but as a new member you will find yourself on common ground with all.  Life is too short to let opportunity pass.
In this, my introductory message, I also want to congratulate and thank Guildmaster-Elect Carl Dumke and Awards Committee Chairman,Clinton Byers for their dedication and their willingness to take on new responsibilities.   I do not wish to take the wind from outgoing GuildmasterToone's sails, so please check out the upcoming issue of the Horn Book for his complete review of the 2016 Annual Horn Conference.  If you weren't there, you missed a great weekend of interactive learning and reuniting with good friends and associates.
Thank you all for your support.  I am honored to have your confidence and to have been elected your Guildmaster.
Thos. E. Ames
HCH Guildmaster
The 20th anniversary of the founding of the Honourable Company of Horners will be celebrated in high style at the 2016 annual meeting held in the US Army Heritage and Education Center at Carlisle, Pennsylvania.  The dates of the meeting at their convention center are March 4th and 5th.  Public is invited starting 1PM to 5PM Friday and 9 AM until 4PM Saturday.  The Guild business meeting and Journeymen/Masters award ceremonies will take place 10:30 to 1PM on Friday.
The sale of display tables for this convention is well ahead of previous years and with limited space Guild members want to contact Art DeCamp, Treasurer, quickly at 814-386-1880 to reserve one.
At every national meeting Guild members are asked to support the cost of the meeting by paying for entry.  As a non-profit, non-advertising organization we count on membership support to carry the cost of the meeting so that money generated by publication of important books like the Hartley book and the upcoming book series about Jay Hopkin's horn history are possible.  In accordance with the USAHEC regulations the general public is free for a non-profit organization's event even though the facility comes at an expense to the Guild.
A special invitation has been extended to all NMLRA members to join us.  Access to all events at the conference including exhibits, horn work demonstrations, and all seminar speakers are included.  Attendance is by pre-registration.  Cost is $30.00 to attend the two days, or $15.00 for one day of the conference.  Spouses are free.  Registration by February 25, 2016 required and is available on the web site. See this web page.
Your admission entitles access to the important panel conversation put on Saturday featuring Roland Cadle, Art DeCamp, Dr. Jay Hopkins, and Wallace Gusler.  They will be discussing in depth horns of the Federal  Period Post Revolutionary War until 1814.  John DeWald will be giving his Master's Presentation on the history of scrimshaw.  Frank Alcorn will introduce a new challenge to powder horn makers to bring a "story horn" to the 2017 annual meeting.  Something that they made for display, and by so doing  get a ticket for a drawing of an exceptional prize.  The prize is a cherry chest made by this extraordinary craftsman in 17th & 18th century design featuring holly and other light color wood inlay of "string and berry design."  The chest is about 16″ x 12″ x10″ on ball feet and will be on display at this event and other HCH attended events such as Dixon's Gun Fair and the CLA Show in Lexington, KY.  The horns will not be judged, but a "No horn-no ticket" rule applies for the drawing.
This message will be my last as Guild master as my two year term expires with the 2016 meeting.  I want to thank the wonderful, talented, generous (of time and money) membership for their encouragement and support to me the quick last two years.  The Guild is special and deserves your continued support as a new member takes the reins as Guild master in March toward a bright productive future.
One parting salvo for historical interpreters, trekkers and reenactors that want to project a correct 18th Century image of a long rifle carrying militiaman or hunter is not to have your horn and bag half way to your arm pit but rather at your waist/sash line and with the tip of the horn projecting outward not in.  There is empirical proof of this and reason for it.  I was guilty of the 20th century carry too.  Join the Horn Guild and learn.
NEW e-mail  rnrtoone@gmail.com  same web site LivingHistoryShop.com or call 609-261-3415  EST.
Your Guildmaster,
Dick Toone
Christmas Greetings and a Happy New Year to all and particular the history loving folks.  Hope all your horn projects were finished on time so your presents were not late to friends and loved ones.  Mother nature is giving us in the mid-Atlantic states a present of milder weather and lower fuel bill so I'm loving it.
I always overestimate the length of winter in my mind and plan to get things done around the house and in the shop, but sixty days to March comes more quickly the older I get.  I seem to squander more time watching TV, hunkered down reading, and then half way through February I have to panic with March in sight.  I need an ejector timer on my recliner.  Remember March 5th is Annual Meeting of the Horn Guild at Carlisle, Pennsylvania! Please register as soon as practical so we can adequately plan for the event.
I recently found out I have Nantucket, Massachusetts ancestry in a great, great, Grandfather Merchant Ship Captain Joseph N. Toone who sailed out of there.  So I just had to see the new Ron Howard movie "In the Heart of the Sea" and must say it was a very fast 2 hours and 2 minutes based on the factual ship "Essex" adventures, which became the inspiration for Herman Melville's epic book "Moby Dick."  Lots of well done historical images and action.
Speaking of movies- this winter has another one that is of interest to all us muzzleloader people called "The Revenant" ( a person who returns after a long absence or as a spirit after death).  The movie is based on factual experiences of Hugh Glass portrayed by Leonardo DiCaprio with technical historical support by AMA (American Mountain Men) personnel.  Great effort was made to portray 1820′s Fur Trade Era correctly including a Ron Luckenbill custom made Bucks County unique style Pennsylvania longrifle because Glass was from eastern Pennsylvania.  It is my favorite style too as you can see by the photos of the one I made for myself in 1986 from page 161 in Kindig's "Thoughts on the Kentucky Rifle in the Golden Age." Not often we that dwell in history get see two movies worth seeing within a year.
Regards,
Dick Toone, Guildmaster
It was Saturday, October 17, 2015 6:30 AM and I was on the Pennsylvania Turnpike once again headed West five days after returning East from the Ft. Roberdeau 18th Century Marketfaire and Rifle Frolic where I demonstrated with the Horn Guild's lathe. We enjoyed three days of good Mid-Atlantic fall foliage with brisk nights and bright days except for a little shower Saturday afternoon. This trip is to Carlisle to attend the Horn Guild Executive Committee meeting at the Army Heritage Center to work on Guild business including the 20th Anniversary celebration of the Guild.
As I passed the exit to Valley Forge Historical park (half way through my Wawa bagel with egg and sausage) I thought of the powder horn I held in my hand earlier this year from the park's collection. I had delivered several reproduction camp furniture pieces including a folding Georgian side chair, two stools, a liquor canteen, and a domed chest commissioned by curator Donna McDermott. She took my wife Regina and me for a visit through some of the archives including the George C. Neuman collection of sharp pointy things and others that go bang. Drawers of them! One drawer held powder horns including the park's Jabez Rockwell horn made and dated so at Valley Forge. This was a rare privilege and you can see a photograph of it held by hand. The camp furniture shown is the first I have delivered looking distressed by use. My web site www.livinghistoryshop.com illustrates images of my normal fare.
The Executive Committee consisting of Tom Ames; Guild Master Elect; Art DeCamp, Treasurer; Russ Young, Secretary; Ed Long, ex-Guild Master and I got a thorough "state of budget report" from Art of some profound importance. Fundraising Committee Chair Kris Polizzi attended as well. The Guild's budget is divided into two parts. One controls the overall operation including annual conference, website, Horn Book and such costs associated with these efforts. The second part is money raised and dedicated to the purpose of the Guild "to learn and share knowledge of Horn work." The Hartley book is an example of this effort that paid its own way and made profits to fund new work now in progress. The operational costs have increased as a normal cost of doing business with out a corresponding increase of revenue from memberships, raffles or sponsorships. Therefore, it is prudent to increase first time membership dues in keeping with the benefits of a first class informational website, Horn Book of renown and growth of the organization. Some cost cutting tweaks in both conference and yearly operational expenses will also take place.
Our Guild is in a strong monetary position and will remain so going into the future thanks to the financial management skills of Art DeCamp.
To those hunters among us good luck, be careful, and shoot straight.
Dick Toone Guildmaster
The Horn Guild's Summer Reception held at the Kutztown Rod and Gun Club drew seventy plus hungry members and guests from the Dixon family.  Chuck Dixon was not able to attend and personally receive the Lanthorn Award for exceptional support of the muzzle loading community in general and the Horn Guild in particular.  Chuck's son Greg Dixon received the award for his father.  This week I received a handwritten note from Chuck thanking us for our thoughtfulness.
The Horn Guild members scooped up most of the ribbons in the accouterments judging and will be receiving just acknowledgement in the upcoming "Horn Book." The forty plus pages of the summer edition of the "Horn Book" is not one to miss and rather one to covet.  Outstanding:  Bill Carter, Bob and Terry Albrecht!
I sometimes wish the Horn Guild had started forty years ago instead of twenty this next March.  If people had then the information now being published, the  image of "frontiersmen" would be more historically correct both for interpreters and painted image today.  Contrary to twentieth century experimental archaeologists trying to do what was then without good data, we now have contemporary images carrying their horns and bags different from how it was in the past.   Today the "in" image is the Longhunter with his bag and horn tucked up under his arm with the horn tip in to streamline progress through the brush.  Data from examination of wear patterns on original horns show the tip was out and horns were attached to the bag strap hung near the hip as judged by length of existing straps.  Today's interpreter is used to fitted clothing and accessories rather than a horn/bag combination "tool" quickly grabbed and slung over the head and shoulder.   Unfortunately, good artists are painting what they now see and perpetuating the myth.   The cross pollination information of today's horn and bag makers with the collector/historian's evidence shared within the Horn Guild is priceless yet can be had for only the $30.00 price of admission to the Guild. Click Here to join or renew.
The Executive Committee will be meeting at Carlisle October 17th to discuss membership, awards, educational progress, and the 2016 20th Anniversary Annual Meeting in March.  Please try to make your membership commitment by the end of the year and reserve your banquet tickets when you receive notice.  It really helps with the planning if you do.
I will be demonstrating the Guild's Spring Pole Lathe at the Fort Roberdeau Pennsylvania Rifle Frolic and Marketfaire October 9-11.  This is a fun event in a great part of the year. Click Here for more information on this event.
 Hope to see you there.  Dick Toone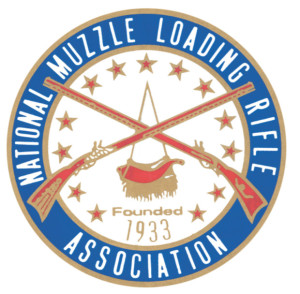 I was an early reader after the third grade and liked historical stories of James Fenimore Cooper and battles in the American Revolution using flintlock muskets and rifles.  It took me years to find out how the flintlock mechanism worked.  The dictionary and encyclopedias were of no help.  I was too young to subscribe to a magazine, so my father got the  American Rifleman by getting a membership for me in the National Rifle Association.  I wanted any information I could get about flintlock muzzleloading guns and that magazine usually had one article pertaining to black powder per issue.  By the 1950-1960′s my interests in guns had been eclipsed by a tour in the Navy and and interest in things that were fast and loud on the water as well as the street.
By the 70′s with my growing family to feed, a few racing mishaps, and limited disposable income, the relatively inexpensive attraction to muzzleloader's surged to the front.  I found out about the National Muzzleloading Rifle Association, unknown in my youth, and immediately joined.  Holy smokes this was just what I always had wanted when I was a kid.  Muzzle Blasts magazine was just about black powder guns.  And I subscribed to second issue of Muzzleloader Magazine in 1974 and life was good.  Two sources of great information all about black powder guns at least once a month.
The youngsters reading this surrounded by electronic fingertip information from forums, and chat rooms on their smart phones having a monthly information source seems surely "old school," and it is.  Belonging to old school NMLRA, with membership was as important as having a paper driver's license if you drove.  I am astonished to find that some contemporary muzzleloading enthusiasts do not belong to the NMLRA. The NMLRA is the group most interested in protecting our specific gun rights so the laws like having a .50 caliber gun are not made illegal by ignorant legislators, not knowing what ".50 caliber" means.
The Horn Guild's very own Billy Griner has a very informative article published in the June 2015 edition of  Muzzle Blasts (the official publication of the National Muzzleloading Rifle Association), Hunting Horns: Their History and Talk.  Our Guild has a working relationship of support, through the efforts of our own Horn Book editor Bill Carter to help provide some material to Muzzle Blasts about the historical time period in America we all love. I urge you to protect the cause of historical arms use by joining the NMLRA right after you join us, the Honourable Company of Horners. Here is a link to the membership page on the NMLRA's website.
Speaking of membership, we have some folks that need to renew their Horn Guild membership for this year (2015). Not re-uping may cost you receipt of the Summer edition of The Horn Book and I know Editor Bill Carter and the Albrechts, responsible for this great source of education and entertainment have a big fat issue now in the works.  Do yourself a favor and follow this link to re-new today to help the Guild to keep on truckin'.
See ya at Dixon's.
Dick Toone Guildmaster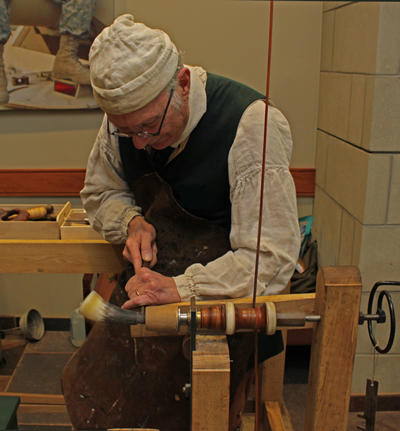 Memorial Day weekend finally brought a relatively normal weather pattern just in time to honor our veterans. As a US Navy Veteran, at our yearly local township memorial service, I spoke of the human cost of the Civil War that had concluded just 41 days before one hundred and fifty years ago.
May 9th was cold at the New Jersey State History Fair at the Monmouth Battlefield Park. We had a fairly good crowd in spite of the temperature and I got lots of interest in my demonstration of the Horn Guild's Spring Pole Lathe. In fact, I got an award "learned the most from…" out of 170 exhibitors. I even sold a Hartley Book.
Looking forward, there is real good stuff happening with and for the Guild. The summer reception Friday night during Dixon's is a fun break right in the middle of the Gun Fair.  This is a sponsored Guild event celebrating good food, drink and a chance to mingle with other Horners in an informal, rural outdoor setting. Ed Long and helper Mary have secured a setting with more room at the Kutztown Rod and Gun Club.
UPDATE: There is a different menu this year. Please see this information on the Summer Reception and register by July 20th! Click Here.
More good news is that the taping of the Roland Cadle, Art DeCamp, Dr. Jay Hopkins and Wallace Guslar discussion about powder horns at the Carlisle yearly meeting in March turned out very well technically and over the top in factual historical information.  They spoke for a riveting hour and one half about powder horn initiation and development in North America, unique in the world, up to the time of the American Revolution.  This lecture will be available on DVD hopefully by Dixon's in the horner's tent at the Guild's exhibit. A formal announcement of the DVD's availability will be on the Guild's web site with ordering information just as soon as it is ready. Look for the DVD on the Merchandise navigational tab at the top of the website (www.hornguild.org/merchandise).
If you are coming to Dixon's stop by and say "Hello" to the old man working the lathe at the end of the horner's tent.
Best regards,
Dick Toone
Guildmaster
Spring sprung the other day and we woke up to two inches of snow! Bad enough we had a blizzard to travel to Carlisle back on the 5th but enough is enough. (It did snow on the day my Sister was born April 5, 1940). But blizzard or not many hardy Horners and their wives made the trek with temperatures in the teens and below to Carlisle. Saturday, the main lavatories both men and women's failed so a couple of the two-holers back in the storage area got extra use.
In spite of the physical inconveniences, the event programs came off almost without a hitch. The business meeting voted to confirm the officers as Tom Ames, Guildmaster-elect; Art DeCamp, Treasurer; Russ Young, Secretary; and me Guildmaster. Art DeCamp reported we are down a little in year over year in the treasury but had a one time start-up expense to provide the Journeyman and Masters acknowledgement awards for all previous recipients and new awards.
The highlight of the meeting was the awarding to the Journeymen and Masters their Certificates of achievment and the "tools of the trade". Tom Ames had prepared the ceremony wording, and I as Guildmaster, read, the thoughtful prose of accomplishment and purpose for each item individually handed out to the recipients. Jim Leach put on a enjoyable and informational Master's presentation on "Blowing Horns". You could have heard a pin drop during the whole hour and a half of the Seminar/ conversation of Jay Hopkins, Art DeCamp, Roland Cadle and Wallace Gusslar. Outstanding!
Look for more information in the next addition of the Horn Book. Only available if your membership is paid up.
Best regards,
Dick Toone
Guildmaster
      Time's a wasting if you have not made reservations to attend the 2015 annual meeting of the Horn Guild in Carlisle, Pennsylvania. This meeting on the 6th and 7th of March will feature original horn objects not generally on display and their history. It will feature a presentation/discussion by four of the leading powder horn experts of early horns up to the American Revolution. You will hear firsthand more than 150 years of collective experience from Roland Cadle, Art DeCamp, Dr. Jay Hopkins, Wallace Gussler, and see some of their "good stuff."
You will witness for the first time a more historically correct promotion and acknowledgement ceremony of advancement to Journeyman and the exclusive Master Horner status. All existing Master and Journeyman are encouraged to come and receive recognition due this special Friday morning ceremony.
More original horn work will be shown this year than ever before so you want to contact Art DeCamp as soon as possible for a display table of your own; and, a remember the Banquet always sells out. If there was a time to take the plunge and join the Honourable Company of Horners or renew your membership it is now for this March 6th and 7th historic meeting.
Go Here to see details of the meeting and to download the registration form.
There has been a small development in the status of motels. The Best Western is being renovated. All reservations made to date should be fine. You may call to verify your reservation if you want at (717) 243-6200.
There are two alternate area motels that will give HCH members a discount. Making reservations soon is prudent. Ask for the Horn Guild discount.
(a) Hampton Inn, 1164 Harrisburg Pike, Carlisle, PA 17013 (717) 240-0200 . rate: $99.00 per night + tax. (Suites are available for more.)
(b) Days Inn, 101 Alexander Spring Road, Carlisle, PA 17013, phone number (717) 258-4147 , rate: $62.00 per night + tax.
See you at the AHEC!,
Dick Toone Guildmaster