June 2014 – Message from the Guildmaster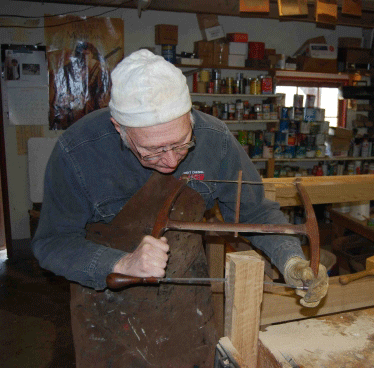 The calendar says it is not quite Summer, but all week here in central New Jersey it's been 85 and humid.  Not that I am complaining, especially after a prolonged winter 2013-2014.  It sure is hot without a breeze. Fortunately our old farmhouse sits among sturdy shade trees and the open fields to the Southwest let  breezes flow through. My wife and I do not use or have air conditioning and this warm spell makes me think of Dixon's.
Late July in Eastern Pennsylvania is hot weather time and time for Chuck Dixon's Gun Fair. The Fair is like Disneyland for muzzleloading enthusiasts. Most all muzzleloading supply manufactures and sales outlets are open for business under one of the long rows of tents. Gunsmiths, knifesmiths and yes, hornsmiths all have their winter work on display. Multiple seminars are broad ranged from beginners hands on to professional tips on sharpening tools. There is family entertainment to be seen like blacksmithing, canon firing and rifling of a gun barrel in the 18th century way. There is an antiques flee market for the missus to enjoy.
Fellow Horn Guild members abound at Dixon's. They are involved in gun and accoutrement judging as well as demonstrations and the lectures. They give freely of their time because they love the atmosphere of like minded people and inquisitive public. Chuck Dixon goes out of his way to open his property to help educate the public by providing a place and the impetus behind this unique in all the world experience. It is not often that we have the opportunity to mingle with the notable gun builders, Pennsylvania Long Rifle collectors and muzzleloader parts suppliers in a rural farm setting. The gun show theme is Fowlers for the first time. You can bet on seeing a few fine originals on display.
Guild's Summer reception will be something special too. It will feature a traditional Berk's County home cooked meal just a few minutes from the gun fair Friday night. Good food, cool refreshments, and an informal get together with friends on a Friday night- it doesn't get much better than that.  Be sure to reserve early before the show.
See you there.
Dick Toone, Guildmaster