August 2012 Message from the Guildmaster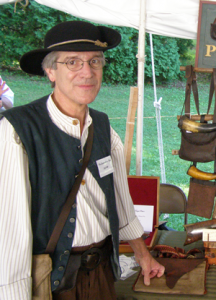 Hello to all:
Has it been two weeks since Dixon's gun-making fair already? How time flies, and the annual CLA show is just around the corner next weekend (08/18 – 08/19) in Lexington, Kentucky. I don't know about you, but for many of our members, these two shows mark a very busy time in our lives each year. I remember a couple of years ago at Dixon's when we were all packing up our tables on Sunday afternoon, and someone called out, "just think, we get to do it all again in three weeks!"
On the thirtieth anniversary of Dixon's this year, we once again witnessed a spectacular assemblage of talent and sharing that, for me, is a large part of what makes out community so special.  Beautiful examples of any type of horn work, accoutrement, or gun could be witnessed and examined throughout the show. For those wanting to learn more about the craft, multiple workshops and presentations were scheduled each hour in several locations. Three days may seem long for a show, but for many, I am not sure it was long enough to see and do everything they wanted to.
The HCH table was a hub of activity with our raffle coming to a finale on Sunday afternoon. Congratulations to Walt Morgis, who held the winning ticket and was present at the show. The guild gained over ten new members, and I would like to personally thank everyone who worked hard at the table over the weekend to help out.  Special thanks goes out to Dick Toone, who assembled and manned our spring pole lathe during the show. Every time I went by, folks were gathered around to look at the lathe, and ask questions about its operation.
Our annual dinner and reception was held once again on Friday evening at Jacobsburg. With a threat of storms in the air, we all enjoyed a barbecue dinner, and desserts along with the fellowship of our company. A surprise raffle was held for the special prize of a very limited giclee print by artist, Kevin McDonald.  This beautiful work depicted a hunt on the long march to Quebec during the revolution. The lucky winner was Rich Hujsa and the funds raised were donated to the Jacobsburg museum to help with the renovation of the new craft workshops. As the last tables and chairs were being put away, the heavens opened with a downpour.
For many, Dixon's would not be complete without the gun making and accoutrement competitions. Once again, I would like to congratulate the many HCH members who entered work, and won ribbons for their efforts! The guild was well represented in the competition and the winner's circle, and further details will be posted on our site as well as in the next issue of the Horn Book.
After all this excitement, it was time to pack up on Sunday afternoon and start the drive home. A long weekend for sure, but one not to be missed if you are a guild member, and can come to Kempton, Pennsylvania for this one special weekend of the year. Hope to see you there next time!
All the best,
Jeff Bibb
Guildmaster