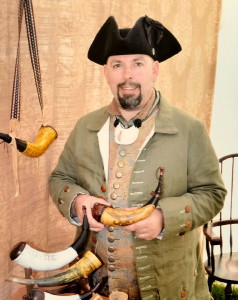 This is the tenth installment in a series of articles on those members of the Honourable Company of Horners who have achieved the status of Master Horner.
Here is an excerpt from the Horn Book article on John:
"John credits his father for his interest in muzzleloading, and ultimately horn work. He introduced John to black powder shooting and "rendezvous" events about 40 years ago."
[To read the complete article, click here...]
This is the ninth in a series of articles on those members of the Honourable Company of Horners who have achieved the status of Master Horner.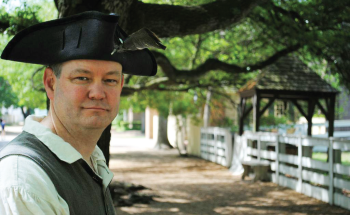 Here is an excerpt from the Horn Book article on Carl:
"Carl Dumke's road to becoming a Master Horner has been unlike any others who have previously traveled down this path. At best, it is a difficult and arduous journey as substantiated by the fact that it has been five years since any Guild member has advanced to the level of Master Horner."
[To read the complete article, click here...]
This is a reprint from the Summer 2-13 issue of  The Horn Book-  A Simple Horn Press by Rex Reddick. While it may not be an oldie, it certainly is a goodie! -wec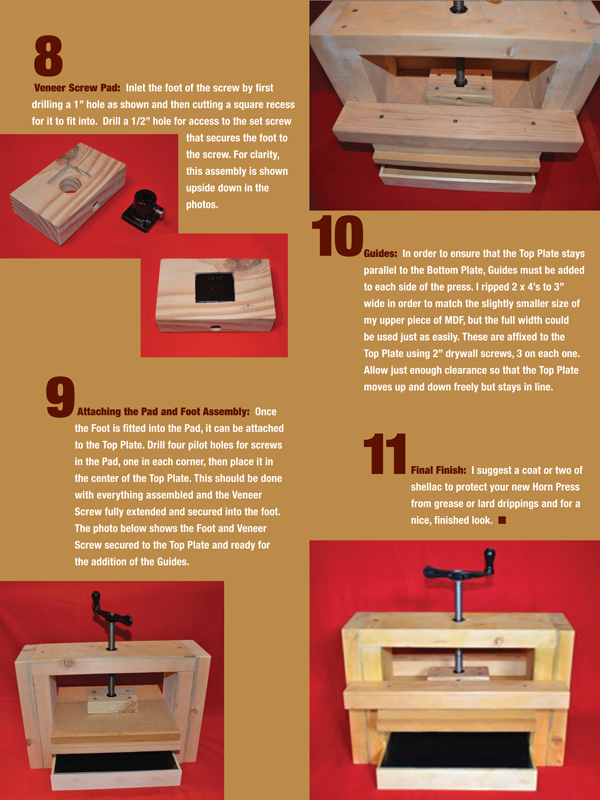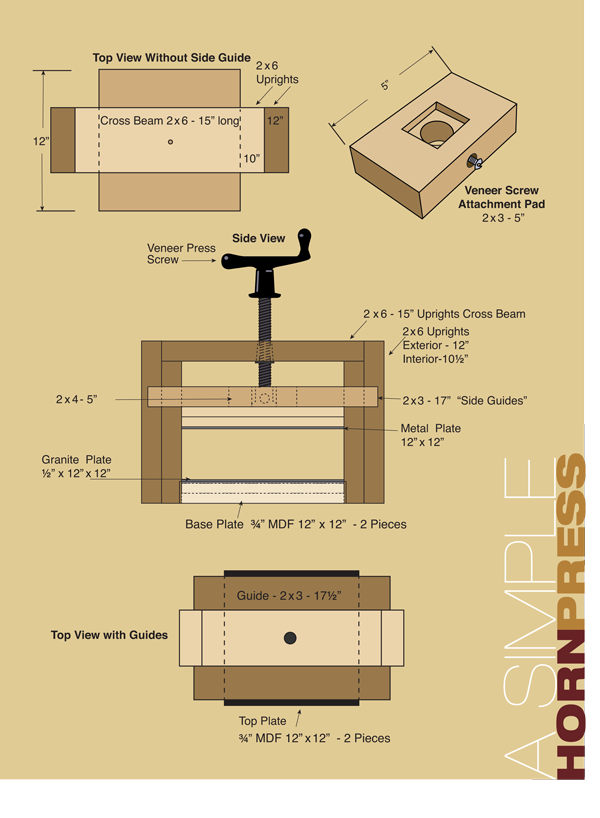 This is a repost of the Powder Horn Display Stand article from the September 2009 issue of The Horn Book. The website had a small issue that necessitated the repost. About the article:  You will see this display stand in use  at numerous events. I appreciate Bob Albrecht writing such a concise article on how to build this simple stand.

-WEC
As you know, Hurricane Sandy came ashore in New Jersey on October 29, 2012, causing great damage and widespread power outages. As a result, the Fall issue of The Horn Book will be delayed a few more weeks. It was scheduled to be in the mail by the first week in November but Bob and Terri Albrecht, who live in New Jersey, lost all power due to the storm. It was scheduled to be back on today (November 6th), but they were informed that it would be another 3 to 5 weeks before the necessary repairs were made and power restored.
Our apologies for this delay, but please rest assured that as soon as things return to normal, every effort will be made to get the Fall issue to you as quickly as possible.
Bob and Terri are doing as well as can be expected under these conditions. Fortunately, no damage was done to their home or studio and they are currently using a generator to keep the basic necessities running, although fuel is somewhat of a problem. Please keep them and well as other victims of the storm in your thoughts and prayers.
Updates will be posted on the Website.
Our thanks to Webmaster Rick Sheets for volunteering to get this information to you and for your understanding and patience.
Regards,
Bill Carter
This is the eighth in a series of articles on those members of the Honourable Company of Horners who have achieved the status of Master Horner.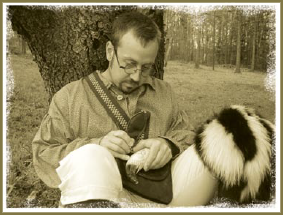 Here is an excerpt from the Horn Book article on Joe:
"When you first meet Joe Becker, your initial impression is that he is a rather quiet, reserved individual, but the more you talk with him the more you come to the realization that he is anything but that. And once you get to know him and see his work, you realize that this quiet, reserved individual is quite an accomplished artisan who specializes in horn work and is very knowledgeable and talented in all facets." [To read the complete article, click here...]

The following article by Byron Smith was first published in the September 1999 issue of The Horn Book.  It gives some excellent insights into the horn trade which I think you will enjoy.
- Bill Carter, Editor and Journeyman Horner
The Question of Imported Horns
By Byron C. Smith
In the 26 July 1759 Pennsylvania Gazette, an advertisement appeared which announced that a diverse quantity of goods had been imported "in the last Vessels from Bristol and London."  The announcement went on to say that they would be "sold wholesale or retail, at BLANCH WHITE'S Upholstery Warehouse, the Crown and Cushion, in Front Street, near the London Coffee House, Philadelphia."  Among the listed items are things that you would expect to see in a shop called "the Crown and Cushion," such as "Upholsterers buckrams, furniture checks, erminettas," as well as sundry other goods related to the textile trade.  It is among the listings of hardware goods that we begin to see the things you would not expect to find in an "Upholstery Warehouse."  Among the "pullies, cranks and wire" we find "brass mounted swords," and "fence pan gun locks."  Just before a listing for "steel mounted swords gilt with gold," the ad mentions "powder horns and flasks."
It is this reference to horns and flasks that we will address herein.  My purpose in writing this article is to raise questions and the appearance and prevalence of imported powder horns.  I also wish to touch on the evidence for specialization in the field of horn work and the implications this has on our understanding of the horn trade.  It should be no surprise that horn powder flasks were being imported from Europe where they were being manufactured cheaply and efficiently.  Indeed, considering the manufacturing power of Britain during the third quarter of the 18th century, it should not astonish us that powder horns were being imported from Britain in 1759.  Obviously there were horns being made professionally in Philadelphia at the time.  Nevertheless, during the years I have been studying the subject I have not heard much discussion of the role of these imported horns would have played in the American market.  In short, we should be asking what did these horns look like and how many of them are out there, mislabeled as professionally made American horns?
Since 1759 was a peak year during the French and Indian War, one would expect that many goods with military value were being imported into America.  In fact, the same advertisement closes with an addendum which includes listings for "Drums and colours, halberts, spontoons, filed bedsteads, mattrasses, valances, and all kind of military accouterments and filed equipage."  The listing ends with the assertion that these items were all "ready made" and available "at the lowest prices, as in London."
This final boast is critical to our understanding of the Colonial import market and why is was profitable for Blanch White's Upholstery Warehouse to be selling powder horns made on the other side of the Atlantic instead of ones being made right in Philadelphia.  By 1759 the Industrial Revolution had already begun in Britain.  Cities like London and Bristol were filling up and would soon become over-populated with former agricultural workers who continued to leave the rural regions of England to seek urban employment as semi-skilled laborers.  This influx of cheap labor combined with developments in mass production technology meant that the production of goods could be divided into sub-manufacturing trades.
For instance, according the 21 February 1747 issue of The Gentleman's Magazine [page 101], the trade of the gunsmith in England had, by that time, already been divided into 21 different sub-trades.  This high degree of specialization insured that guns were being mass produced very cheaply and efficiently in cities like London and Birmingham.  These guns (the vast majority were smooth bored) were being exported to America and sold by import merchants in places like Philadelphia, Boston, or Williamsburg.  It is quite possible that the same manner of specialization and cheap manufacturing methods were taking root in the horn working trades as well.
There are a few clues in the literature from that time about the advent of specialization in horn working.  According to R. Campbell's The London Tradesman (published in London, 1747), the Horner is "of Kindred to the Turner, as he turns a great many of the Articles he deals in, which are both numerous and useful."  Campbell has nothing more to say about the items the horners made, but he does add that the horner's trade is not considered among "the most polite Trades."  He goes on to say that it is "a very useful one, for the stench of the Horn, which they sometimes manufacture with the Heat of the Fire, keeps them from the Hyp, Vapours and Lowness of Spirits, the common malady of England."  In short, it is clear that Campbell did not know much about the horner's trade.  Indeed, the health benefits were  all the encouragement that Campbell could give the prospective apprentice other than to say that a journeyman horner could earn "from Twelve to Eighteen Shillings a Week."
As for his assessment of the turner's trade, Campbell hints that specialization was well under way by 1747.  He wrote that the turners' trade "is a very ingenious Business and brought to great Perfection in this Kingdom."  He continues that they "differ among themselves according to the materials they use; some turn Wood, others Ivory, Tortoise-Shell, &c, and others Metal, Iron, Brass, Gold or Silver."  He did not mention horn as one of the specialty materials, presumably because he saw the horner as a kind of specialized turner.  His essay on turners closes with this statement: "There is an infinite Variety in their Work, and they must be learning all their Life."
Campbell is less kind to the horn-working comb makers.  He wrote that comb maker's work "neither requires much Labour, Education or Ingenuity," adding that "It is none of the most profitable Branches to the Master; they earn an honest Subsistence, but though their business is but in few Hands, I never heard of any of them who died remarkably rich."  He notes that a journeyman comb-maker could earn "from Twelve to Fifteen Shillings a Week."  If you recall, a journeyman horner might only expect two more shillings per week.  In other words, despite the small number of active comb makers, they could not make a decent living just by making combs.  It seems that most types of horners were in the same situation.
The question must be asked then, why were comb makers not diversifying?  Perhaps the answer is in their trade name.  Is it not possible that comb makers are specialized horner workers who, in response to a growing market, focused on one aspect of the trade?  Could it be that generalist horn workers had originally claimed the comb making trade but lost it to those horners who specialized in response to a demand for mass produced cheap horn combs?  If this was the case, the evidence seems to indicate that here in America, that sort of specialization was not rewarded in the limited Colonial market.
Returning to the Pennsylvania Gazette, there was at least one American comb maker who was, like many American tradesman during the Colonial era, not limiting himself to one specialty.  In the 4 October 1759 Issue, Christopher Anger, "Combmaker," advertises that he had moved his shop from "Second Street, [at] the Corner of Chestnut Street" to a new location in "Strawberry Alley, within four Doors of Samuel Howell's Store."  Anger added that customers who visited his new location would "be supplied with all Sorts of Combs, Wholesale and Retail; Also with Powder Horns, and Punch Spoons, &c."  In other words, Anger was a horner who made powder horns, punch spoon and other horns products, but thought of himself as a "Combmaker."  There is even evidence that he considered himself as akin to a turner.
Another key advertisement appears in the 16 February 1764 issue of the Pennsylvania Gazette.  It read:
"THOMAS DUNN, Turner, from London, PERFORMS all sorts of Turner's Work in the Best Manner, in Horn, Ivory, Silver or Brass; he likewise makes Horn Flasks, Butchers Steel Handles, Needle Cases, Nutmeg graters of Horn or Ivory, Horn Pipe Stems, turns Billiard balls, Dice boxes, and Table men, Cane heads, all Sorts of Inkhorns, oval Snuff boxes, Punch ladles, Buttons, curious Flower pots for Ladies, Ivory needles for drawing Ribbons into ladies Caps, horn Tumbler, Shaving brushes, Whip handles of Horn or Wood, &c.  Likewise Tortoiseshell Rings made and sold, wholesale or retail, by said Thomas Dunn, at Christopher Anger's at the Sign of the Comb maker in Strawberry alley, Philadelphia."
Clearly Anger and Dunn were sharing a workshop and storefront.  They are clearly both horners, but Dunn as a turner was specializing at all.  Unlike his fellow turners in London whom Campbell described, Dunn was not defining himself as a turner limited to working only with horn.  Such specialization was the sure road to financial ruin in America, where skilled craftsmen were fewer in number and where the Industrial Revolution had yet to make inroads.
Now we can return to the imported horns being sold at Blanch White's Upholstery warehouse, in that same year when Christopher Anger offered his American made powder horns in his shop.  Without being able to see these horns and know their prices, so that we can compare them to Anger's horns, it is impossible to draw any certain conclusions.  Even so, if we can believe that the imported horns were being sold cheaper than Anger could sell his, it seems possible that Anger and his fellow American horners were offering items not available on the import market.  Could it be that Anger and his fellow tradesmen were offering custom made horns, or even a new American style powder horn that was not made elsewhere?  If so, what did this new American style powder horn look like and how was it different from the cheap mass produced horns coming from horn shops in London?  Unfortunately I do not have those answers.  I look forward to hearing from those of you who think that you might have the answers to these questions.
The following article by Tom Ames was first published in the December 1996 issue of The Horn Book.  You'll find that a lot of Tom's feelings, attitudes and beliefs mentioned in this article are also reflected in the segment "Part II – Judging Accouterments at Dixon's" in the Winter 2011 issue of The Horn Book.  This discussion of "the inner voice" and "our quest for understanding" the true meaning of our heritage through various artifacts is always of great interest.

Our thanks to Tom for allowing the reprint of this article on the Website.

-Bill Carter
A Most Ancient Art & Mystery
by Thomas E. Ames
Often the most rewarding experiences come when we least expect them: from unexpected finds in flea markets to an all too rare horn at a good price (for the buyer, that is) at a gun show.  I call these "gifts of the spirit," almost as if the one who had lived with the relic horn or gun reaches into our subconscious to prepare us for the discovery.  A few of you may know the story behind how I came to find a spout stopper that seemed to have gone with a horn purchased on a bag half an hour earlier.  The original stopper with a vent pick inserted in the shaft had been lost from the original outfit.  Within the hour, some miles distant, a stopper complete with pick was found.
Coincidence? No, such events occur far too often for it to be chance.  How many people know the story of how Madison Grant came to reintroduce the folding Barlow pattern knife and fork pictured in The Kentucky Rifle Hunting Pouch? [plate 128, page 197]  Was this an original set?  Perhaps, perhaps not.  But each exemplifies the character of the other and by that compliment they encourage appreciation and our quest for understanding the lives of our forebears.  Such is the value of the relics they've left behind for us.  Listen and feel of what they tell us and listen to that inner voice as you recreate them.
Such is the value of the work we leave behind as contemporary artisans following in the footsteps of our ancestral heritage.  At times even the plainer examples of our labor become masterpieces by virtue of their voice to our inner being.  Sometimes they radiate their own specialness beyond even the critical eye of their maker.
Bob Chattin, a well known horner in southeastern Pennsylvania and a founding member of our Company, has been active for many years at Dixon's Gun Fair.  Early on, I chose to establish a working friendship with Bob and his partner, Jeff Renninger, because they were competent craftsmen in their own right.  Both Bob and Jeff worked in a traditional manner and that was all important to me.  They did not need my influence beyond the critique stage.  They deserved the right to develop in their own way, their own unique style.
Well, things change over the years and we became more than passing acquaintances at the Gunmakers' Fair each year.  Yes, I wanted an example of the work they exhibited and quietly waited for that special piece that would encompass a regional feeling as well as fill a void for pouch service related to a particular gun.
I found that special piece at the rifle frolic on the Henry Factory site last June:  a ringed or banded horn of fine architecture, painted red, shadowing an original regional production.  It would serve to balance the refined architecture of the plain rifle of the region that I use in the field.
In July, Bob Chattin approached me as I arrived at the Gunmakers' Fair at Dixon's and handed me a small pocket horn.  On it he had engraved a likeness of  the regional liberty capped figure head.  He asked me to critique the likeness.
Many of you know of my long research about this particular motif so I didn't consider Bob's request as anything more that an honest appraisal.  The first thing to strike me, however, was the well polished honey colored maple base; semi-domed, it radiated a degree of depth that struck me as a very fine attribute to the entire package.  It was like looking into a clear sun lit pool of water with each layer of grain reflecting its own light.  I commented to Bob briefly on the whole horn and made note of the attraction of the base treatment.
Late on Sunday afternoon, Bob brought the horn to me again and noted that perhaps I'd not seen everything the first time.  As I rolled the horn around, I was pleased and honored to see a newly made inscription:  "To Thos Ames, a token of respect and friendship from Robt Chattin."
On my way homeward from Dixon's, I stopped for dinner with the Odle family.  I related the story of Bob's presentation and handed the horn to him.  Mark was drawn to the base details as we sat across the dinner table.  In the restaurant's lighting, a face appeared to radiate from deep within the base plug!
There, in the maple, was the liberty capped figure head of Tammany appearing to stare from the natural holograph.  Intentional?  I think not!  Each fiber of wood grain picked up by the artificial lighting in the restaurant could not belie the unintended spirit behind its maker.  No creative hand could have represented the spirit of Tammany any better.  It was dimensional, the face reflected in the holograph of creation.  The dictionary defines holograph as "a document solely in the handwriting of its author."
When I turn the base upside down, as with any two faced grotesque, another face appears to issue from its depths – that of a wizened old man.  Eyes drawn, his face lined and creased with knowledge, his mouth hidden behind a drooping mustache.  I have to ask myself:  who is the author of such a document?  Who are we to judge the true creative spirit of another?  Why do we feel we must compare the merits of one against another?  What value do we place on our special gifts, be it a contemporary horn with special meaning or a relic that somehow found its way to us in a manner that defies rational explanation?  And finally – Bob, did you know?
I trust we all shall find our answers as we continue to express ourselves through creative spirit and the knowledge of the phrase that so endeared itself to the crafts of old as "the ancient arts and mysteries" will be made known unto you.
The Honourable Company of Horners
Proudly Announces Its 15th Annual Meeting
March 11-12, 2011
Fort Roberdeau County Park, near Altoona, Pennsylvania
The Honourable Company of Horners will host its 2011 Annual Meeting at Fort Roberdeau, near Altoona, Pennsylvania, March 11th through the 12th and promises to be an event you don't want to miss.
The fort played an important role in the Revolutionary War.  In the spring of 1778, the struggle for independence appeared to be over. The British occupied the rebel's capital city, Philadelphia and Washington's army was destitute at Valley Forge.  Supplies for the army were in short supply and there was little lead for bullets and musket balls.  Daniel Roberdeau, a member of the Continental Congress meeting in York since the capture of Philadelphia, became aware of lead mines in central Pennsylvania. He volunteered to organize an expedition to the mines to see if it was possible to obtain a supply of lead.  At his own expense, Roberdeau built a stockade to protect the lead mining and smelting. The fort became a storage depot for ordnance, ammunition, and other supplies until 1780, and was garrisoned by militia of Cumberland and Bedford Counties and the Bedford County Ranging Companies. Settlers often found safety at Fort Roberdeau during times of raids by parties of British rangers and their Indian allies.
One attribute our Guild has always espoused is that we have never sought out the norm, never been reluctant to do things differently, but instead have always done what was in the best interest of our organization and never hesitated to be different.  This year's meeting clearly reflects that practice, as it will indeed be completely different from any organizational meeting that you will ever attend.  All Guild members are highly encouraged to attend, for it will indeed be different, be new, be innovative, and promises to be one of the most complete learning experiences you'll ever enjoy!  Spouses are welcome as well (no extra charge), so come join us for our annual meeting that you will surely find different, rewarding and one of the best educational experiences you've ever had!  Hats off to our Guildmaster, Ed Long, for the establishment a new format and to Art DeCamp and Roland Cadle for making sure the guidance becomes a reality!
Just a few examples to back up that statement: All Guild members are encouraged to dress in the 18th and early 19th Century attire both days, when you register you are automatically eligible to win a commemorative engraved powder horn, there are no seminars scheduled, and the focus of the meeting is the Masters' Benches.  There will be eight interactive stations manned by Master Horners demonstrating varied aspects of horn working to include horn selection and preparation, heating and pressing, engraving, techniques of spout design, engrailing and carving, combining metal and horn, making applied and screw tips, staining, turning and proper procedures for sharpening tools.  So whether you're a collector, history buff, beginner or advanced horn worker, there will be plenty to learn and at your own pace!  This schedule has been designed to allow everyone to interact directly with the Masters and discuss issues of specific interest to you.  Bring your cameras, notebooks and plenty of questions.  If you think you know it all, the challenge is to come and find out.
Other activities include the Hartley Book signing, the annual business meeting which will take place Friday morning, horn judging, Saturday night banquet, fund raising raffle, and of course, a wide array of display tables for all to peruse.  Of particular interest to all Guild members will be a large collection of original screw tip horns.
From Bedford, PA head north on I-99 for 33.2 miles, take Exit 33 for .6 miles and turn right on 17th Street.  Go .6 miles and turn right on Valley View Blvd/US 220-BR N for 1.6 miles.  Turn right onto S. Kettle St. which will become Kettle Rd. following it for 8.4 miles.  Turn left onto Ft. Roberdeau Rd. and go .4 miles and you will be at the Fort Roberdeau Historic Site. Their address is 383 Fort Roberdeau Rd, Altoona, PA 16601-8321.
Conference Registration & Schedule Information
Day/Date

Time

Activity

Thursday
(Mar 10)
3:00-5:00
Display Table, Masters' Bench Stations Set-up
Friday
(Mar 11)
8:00 – 9:00
Members' Registration, Display and Table Set-up
 
9:00 – 10:30
Registration / Socialize
 
10:30 – 12:00
Welcome by Guildmaster / Business Meeting
 
12:00-  1:00
Open to Visitors and Public / (Paid Attendees-Lunch)
 
1:00 – 4:30
Interactive Masters' Demonstrations at Farm House / Open to Visitors and Public
 
5:30 – Until
Wine & Cheese Reception at Village RestorationsOffice & Training Center in Frankstown, PA
 
 
Free Time / Dinner on own
Saturday
(Mar 12)
8:00 – 9:00
Registration / Socialize
 
9:00 – 12:00
Demonstrations, Open to Visitors and Public till 4:30 PM
 
1:00 -  2:00
Lunch
 
1:00 – 3:30
Interactive Masters' Demonstrations at Farm House / Display tables open
 
3:30 – 4:30
Horn Competition / Judging / Display Area Closes
 
4:30 – 5:30
Breakdown & Final Clean-up
 
6:00 – Until

**Banquet at Liberty Hall, U.S. Hotel, 401 S. Juniata St., Hollidaysburg, PA / Awards and Raffle

Sunday
(Mar 13)
Check Out
Check out of hotels unless you have scheduled an extended stay / Travel Home
For your convenience, coffee will be provided on site in the mornings with sandwiches and drinks at lunch time for both days.  This will help you to fully maximize and better schedule your time.
** Beginning a 6 o'clock Saturday evening, the Guild's banquet will take place at Liberty Hall, U.S. Hotel in Hollidaysburg, PA and promises to be an exciting event with the presentation of the Lanthorn Award, raffle drawing and other activities.
It is requested that you forward your registration form, along with payment, to Art DeCamp no later than March 4th, 2011.  This will greatly assist our organizers and expedite registration. If you have already registered for the annual meeting for the other location, you do not have to register again.
Click here to print out the itinerary.
If you have any questions concerning our annual meeting or would like more historical information on the site, please contact Art DeCamp at (814) 643-6343 / e-mail at: ajdecamp@verizon.net, or Roland Cadle at (814) 695-7951 / e-mail at: villagerestoration@yahoo.com.
For those wanting to make early reservations, there are several options available.  Primary lodging is with Comfort Suites Altoona, 140 Stroehman Rd, Altoona, PA, phone number (814) 942-2600.  Cost is $89 + tax per night.  There are a limited number of rooms in this block, so reserve early and be sure to mention you're with the Horners' Guild to get the special rate.  Other lodging in the area includes:  Super 8 Altoona, (814) 942-5350, www.super8.com, approx rate $49 per night / Econo Lodge Altoona, (814) 944-3555, www.econolodge.com, approx rate $54 per night / Holiday Inn Express Altoona, (814) 944-9661, www.altoonaexpress.com, rates from about $118 per night / Arch Spring Farm B&B, (800) 262-2655, www.restandrepast.com.
For additional B&B's you may also Google Bed & Breakfasts in Altoona, Tryone, and Spruce Creek, PA areas.
Please continue to monitor our website for up to date information on the annual meeting, banquet and lodging facilities.

Regards,
Bill Carter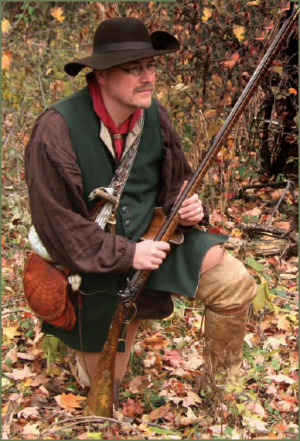 This is the seventh in a series of articles on those members of the Honourable Company of Horners who have achieved the status of Master Horner.
Here is an excerpt from the Horn Book article on John :
"The person in question is John Kiselica and fortunately he is one of those unique individuals that defy all human traits of normalcy. Although I will expound more on this later, in a nutshell John is a highly talented jeweler who designs, produces, repairs and restores intricate pieces of jewelry during the day, then at night teaches gunsmithing courses at the local community college, and in his spare time likes to attend muzzleloading events."  [To read the complete article, click here...]