February 2011 Message From The Guildmaster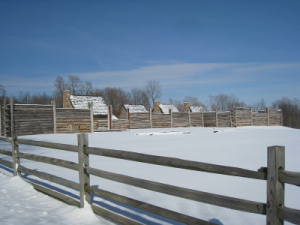 Our new location for the HCH 2011 annual meeting has been finalized.  Dates are March 11th and 12th at Fort Roberdeau in the beautiful Sinking Spring Valley outside of Altoona, PA.  This location will be different than all prior locations because of its rural setting.
Before I continue about the new location, there are a few points I would like to bring out relating to the former site at Morristown, NJ.  First, if you reserved a room at the Ramada East, it has been cancelled.  The reason we moved out of Morristown was due to the unwillingness of a newly appointed NPS Superintendent to honor the original terms of our previously negotiated park use permit.  We were left with no choice but to hastily find an alternative site.
The program at Fort Roberdeau will basically remain the same as originally planned for Morristown.  Demonstrators and most members will be dressed in colonial attire for the two day event.  There will be up to 30 tables displaying items made from horn to include two large collections of original screw tip powder horns.  The Hartley horn drawings book will be available for sale and members of the Hartley group will be available to sign your personal copy.  The entire program will be centered  around interaction with Master Horners of the Guild demonstrating various phases of horn work.
The annual meeting will be held Friday morning.  Members are encouraged to participate in the horn competition.  A wine and cheese reception will be hosted Friday evening by Village Restorations at their office and work shop in Frankstown.  The entire event will culminate Saturday evening with a banquet in the Liberty Hall at the U.S. Hotel in Hollidaysburg.  Costs will remain the same and members will receive a second mailing with all the event details.  Members are also reminded to please return the questionnaire received in the first mailing.
The Comfort Suites Altoona, 140 Stroehman Road, Altoona, PA.  814-942-2600 have given the Guild a rate of $89 per night plus tax.  Reserve early as there are a limited number of rooms in this block.  Be sure to mention you are a member of the Guild meeting at Fort Roberdeau for the reduced rate.
Once again, I apologize for any inconveniences this has caused and I am looking forward to seeing everyone at Fort Roberdeau.
Sincerely,
Ed Long
Guildmaster