2010 Spring Raffle Winner
Rich Griggs of Marysville, Ohio was our winner!
The Honourable Company of Horner's assembled another spectacular horn and bag combination and was raffled off at the 2010 HCH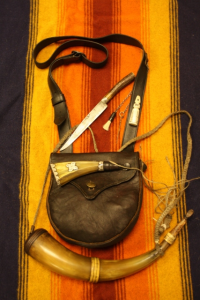 Annual Horn Fair at Historic Roscoe Village on March14.
Here is a list of HCH Members who donated the items for the raffle:
This fundraiser included a hand sewn leather shooting bag, horn strap and wisk and pick by Dixon's best of show winner Calvin Tanner.   A powder horn by Dixon's first place ribbon winner Jeff Bibb.  An engraved powder measure by John Ruoff with engraving by Mark Preston.  A priming horn by HCH guildmaster Mike Karkalla and a bag knife by Jim Pease.