June 2012 Message from the Guildmaster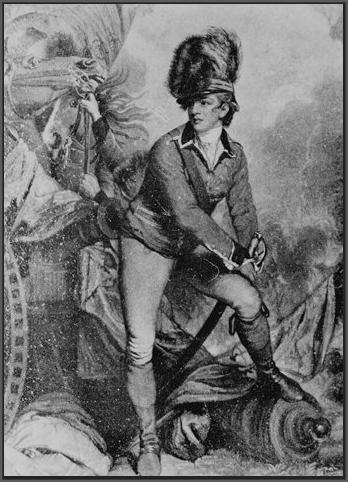 Hello to all:
With summer in full swing in most of the country, now is the time to get out and participate in historical activities. Here in Virginia, the city of Charlottesville just celebrated part of its 250th year festival with an 18th century encampment and  re-enactment of Tarleton's raid in 1781.  While walking around the downtown mall Saturday evening, many casual strollers were surprised by a rather "properly mounted" Colonel Banastre Tarleton riding through the throngs. Most folks were  taken unawares since thousands had arrived in Charlottesville for an evening of fine acoustic music and entertainment by Steve Martin and The Steep Canyon Rangers. The sight of a mounted 18th. Century figure riding through downtown, along with many other 18th. Century – clad participants, certainly caused a stir.
As a living history participant, I wonder how many of us really understand how thrilled most folks are to experience something like this. I have been thanked on numerous occasions for "keeping all of this alive" while working at various events here in the Lynchburg area.  I don't really think much about it, as I am sure most of us don't, while participating in our various activities. 18th Century attire is just another day for most of us. It is usually just as comfortable and natural as most any other clothing, so we do not really think much about the impact it imparts to those who view our pursuits.
The same goes for our roles. We are horners, leather workers, blacksmiths, weavers, soldiers, officers, whatever our trade or persona.  To others, we are a link to a time that few modern citizens can imagine. iPads, cell phones with cameras, video games, microwaves, modern automobiles, and other contrivances have assured our fellow inhabitants that there is nothing else worthwhile in the world.  As a representative of a time long past, you can do a lot  to help folks understand their heritage and history. When working an event, take a few extra moments, if you can, to talk to those who seem particularly interested. You may be surprised at the response. Our valuable history may gain another strong supporter. The HCH may gain another member!
In our day and time when most school systems do not even teach 18th century history to any extent, museums and historical organizations may become the only real links to the past we value. Think about it…. do you want to see our heritage lost to the winds. I don't, and I hope you don't either.
As always, your thoughts, comments, and other observations are always welcome.
All the best,
Jeff Bibb
Guildmaster,
The Honourable Company of Horners