April-May 2015 – Message from the Guildmaster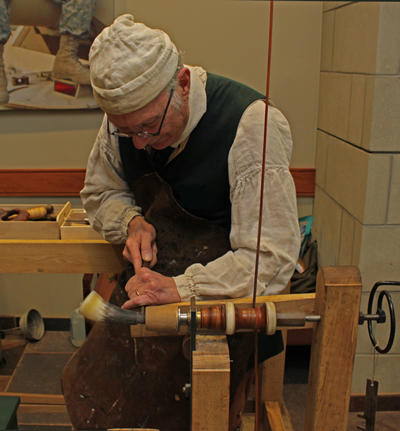 Memorial Day weekend finally brought a relatively normal weather pattern just in time to honor our veterans. As a US Navy Veteran, at our yearly local township memorial service, I spoke of the human cost of the Civil War that had concluded just 41 days before one hundred and fifty years ago.
May 9th was cold at the New Jersey State History Fair at the Monmouth Battlefield Park. We had a fairly good crowd in spite of the temperature and I got lots of interest in my demonstration of the Horn Guild's Spring Pole Lathe. In fact, I got an award "learned the most from…" out of 170 exhibitors. I even sold a Hartley Book.
Looking forward, there is real good stuff happening with and for the Guild. The summer reception Friday night during Dixon's is a fun break right in the middle of the Gun Fair.  This is a sponsored Guild event celebrating good food, drink and a chance to mingle with other Horners in an informal, rural outdoor setting. Ed Long and helper Mary have secured a setting with more room at the Kutztown Rod and Gun Club.
UPDATE: There is a different menu this year. Please see this information on the Summer Reception and register by July 20th! Click Here.
More good news is that the taping of the Roland Cadle, Art DeCamp, Dr. Jay Hopkins and Wallace Guslar discussion about powder horns at the Carlisle yearly meeting in March turned out very well technically and over the top in factual historical information.  They spoke for a riveting hour and one half about powder horn initiation and development in North America, unique in the world, up to the time of the American Revolution.  This lecture will be available on DVD hopefully by Dixon's in the horner's tent at the Guild's exhibit. A formal announcement of the DVD's availability will be on the Guild's web site with ordering information just as soon as it is ready. Look for the DVD on the Merchandise navigational tab at the top of the website (www.hornguild.org/merchandise).
If you are coming to Dixon's stop by and say "Hello" to the old man working the lathe at the end of the horner's tent.
Best regards,
Dick Toone
Guildmaster